Integrating Ibogaine: Moderated by Dr. Jeffrey Kamlet, Awake Circles, 5:30/8:30 pm Pacific/Eastern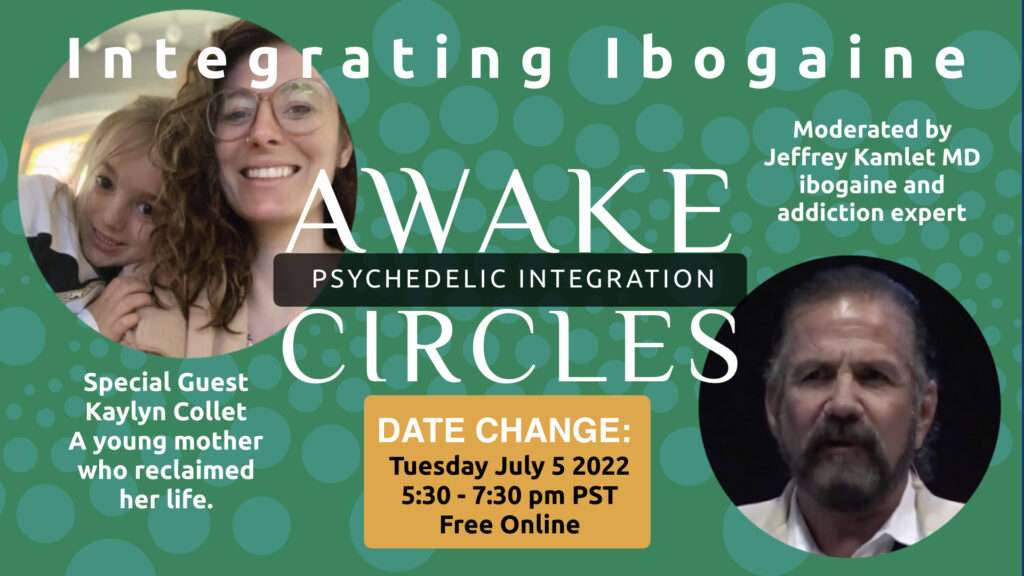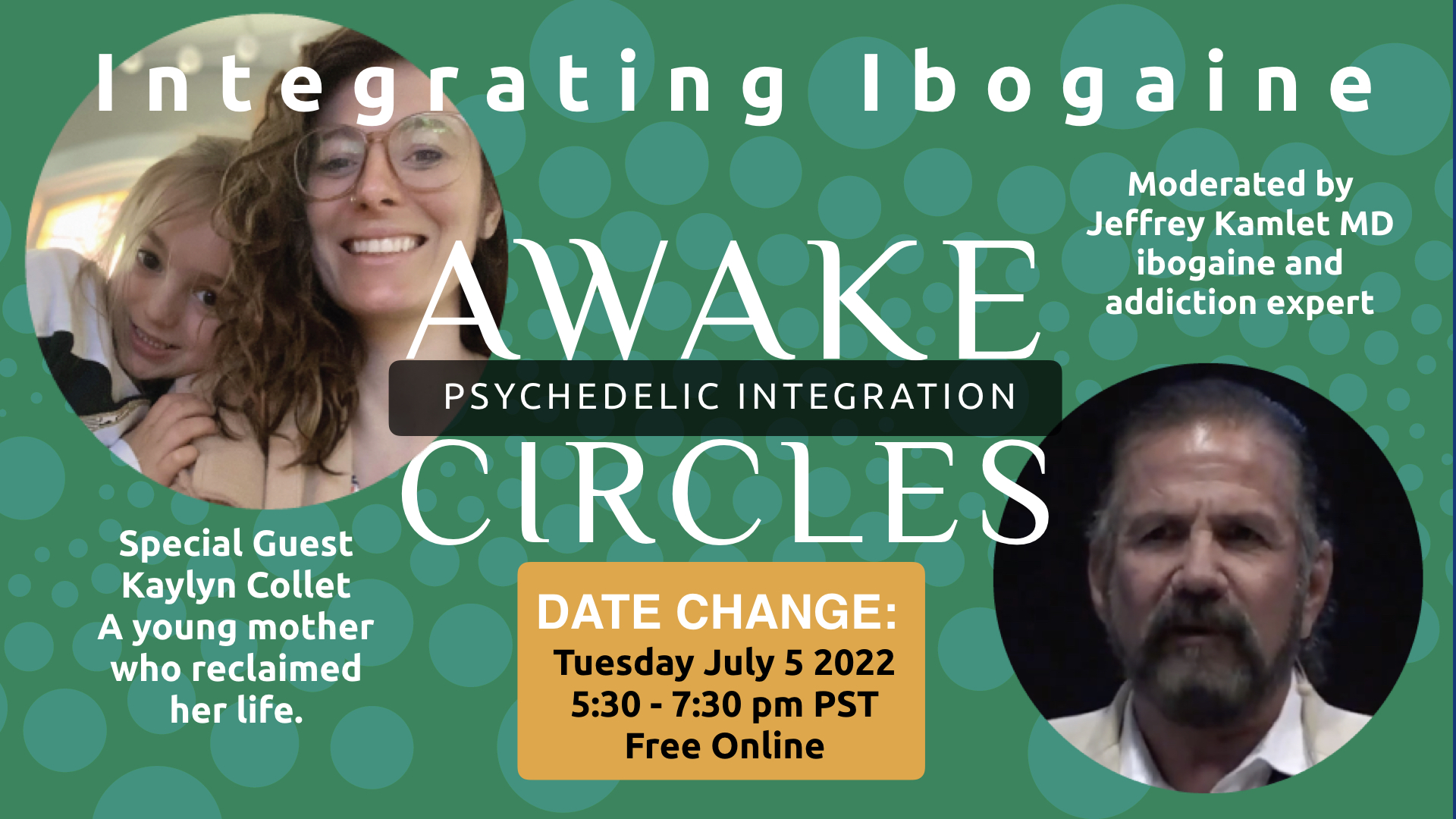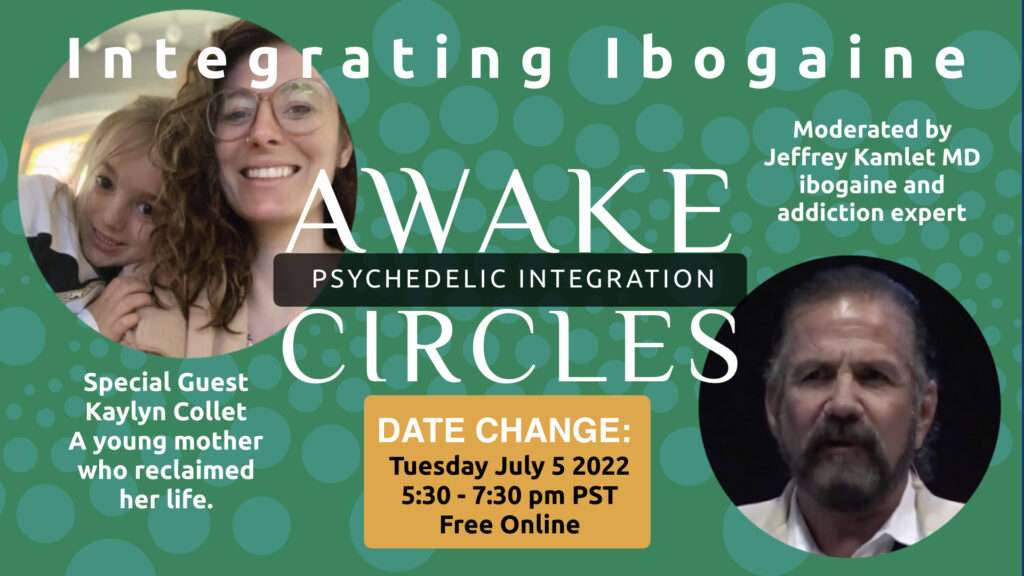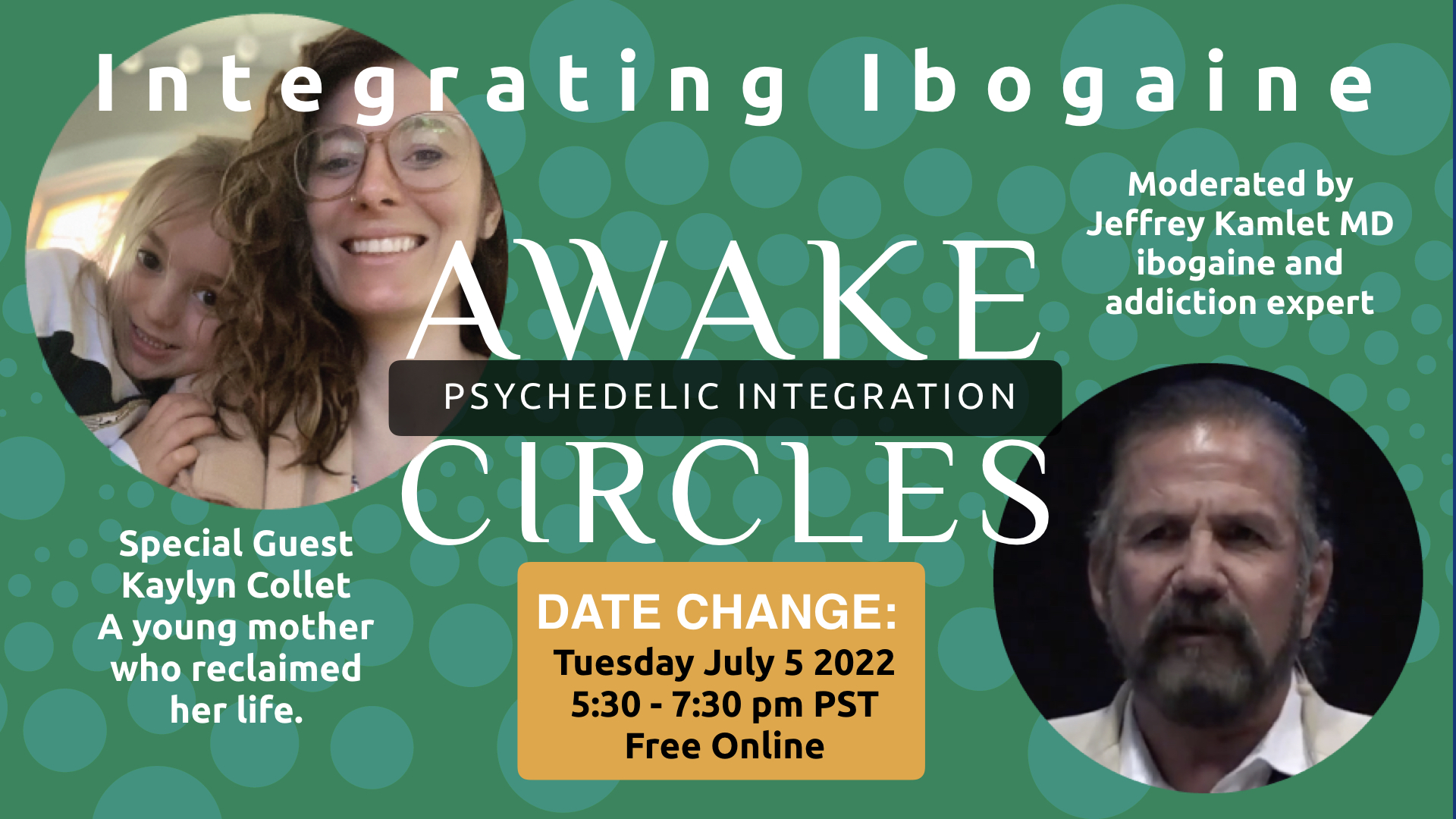 06/27/2022 
05:30 pm to  07:30 pm PST Los Angeles Time
5:30 PM PST/8:30 PM EST ON ZOOM, FREE 
Integration is the pain point in the journey of addiction-recovery with ibogaine, a plant extract that has the medicinal property of interrupting opioid addiction– not just psychologically, but physiologically–in one heroic-dose treatment that lasts from 12-36 hours.
Now this is no ordinary treatment. In fact, it's non-ordinary. Ibogaine is an entheogen, and takes you into a dream-like computer bank where you are shown and taught and are the recipient of energy, insights, and re-connection that fall in the psychedelic category. Strictly speaking, ibogaine falls more in the category of a lucid dream where as one person after an ibogaine treatment said "It's like you become Freud."
For this month's integration circle we will be having a conversation about preparing for, navigating, and integrating Ibogaine with special guest moderator Dr. Jeffrey Kamlet, who works closely with ibogaine–both in the research and actual treatment arena, and Kaylyn Collett, a young mother from Minnesota who went on a journey to reclaim her life.
Dr Jeffrey Kamlet is not only a cardiologist and ER doc, board-certified in addiction medicine, he also has decades of experience with clinically administered ibogaine treatments. He is also the CMO at Beond.us, a clinic in Mexico that offers ibogaine treatments done with adherence to Kamlet's Safety Protocols. We are lucky to have him as board member and Medical Advisor of Awake.net's FEAT program, which just got 501c3 status to fund entheogenic addiction treatment.
——————
Welcome to Awake Circles, a free monthly online psychedelic integration circle
We are "holding space" for something greater to occur within these virtual walls, a greater comprehension, a greater sense of community, and a greater understanding of entheogenic communion.
Our intention is to create a container where we can discuss entheogenic journeys with some depth and explore concepts and perspectives that will help people prepare for, navigate, and integrate these journeys in the highest way possible. Hearing people's trip experiences and how they are impacted by it negatively or positively is a big part of what will happen here, and these narratives will be the springboard for our discussions. Our focus is on the archetypal, sacramental journey, and it's various features, processes, and transformations, as well as metaphor and symbolism of what comes through in these journeys.
We believe 'integration' is a three-fold idea:
Integrating a single journey (days, weeks, months, years after)
Integrating many journeys over a long period of time.
Integrating the use of these substances in our own spirituality, culture, and world in a legal and safe way.
We deliberately use the term "entheogen" instead of psychedelic because the word means 'generating-the-Divine-within' and this is the aspect of what these medicines can do for us that is so profoundly transformative and needed in our society.
Our circles are led by psychonauts who are adept at journeying, with personal and/or professional experience with these medicines or the diseases they heal who can offer insight based on their own experience.
AGENDA
5:30 -5:50 Lakshmi Narayan, co-founder Awake.net
A brief intro to Awake Circles in general and an introduction toModerator Dr. Jeffrey Kamlet, the topic and special guests
5:50 -6:10 Dr Jeffrey Kamlet, Moderator, Chief Medical Adviser, FEAT, CMO, Beond.us
The ibogaine Flood-Dose Experience
5:50 – 6:00
PRESENTATION & DISCUSSION
6:00 – 6:20 PM Special Guest Kaylyn Collette
Circle opens with Kaylyn Collett sharing her story of addiction recovery with and without ibogaine. Her story explicates some of the problems that currently exist in the addiction recovery space. Kaylyn found Awake.net's FEAT program online and contacted me (Lakshmi). She lived in Minnesota and I lived in San Diego, where she was flying in to do an ibogaine treatment at a clinic in Tijuana. I filmed her journey in search of an ibogaine treatment that would work. from San Diego to Tijuana to Cancun.
6:20 – 7:30 Open Discussion moderated by Dr. Kamlet
co-moderated by Lakshmi
SHARED AGREEMENTS
1. No recordings
2. Be mindful of not monopolizing the conversation
3. Listen for the bell as a gentle reminder to wind it up
4. Be open-minded or at least tolerant to points-of-view that do not jive with yours, as we are all on different points on our journey.
If you or anyone you know would like to be a Volunteer Moderator please reach out to the organizer here.
Awake.net is a 501c3 non-profit social impact network for the entheogenic community that offers events, circles, discussions, groups, crowdfunding and courses for and by the psychedelic community. Become a free member, or become a FEAT Friend member for $10 a month and support our mission to end opioid addiction.
Recommend

0

recommendations
Published in 2022, Events