FUNDING IBOGAINE TREATMENTS
Announcing the FEAT grant (Funding Entheogenic Addiction Treatments) which intends to disburse raise and  financial aid to subsidize costs for ibogaine treatments, travel abroad, and aftercare integration coaching for opioid addicts who want to interrupt and end their substance abuse patterns. 
DONATE TO FEAT AND HELP SAVE A LIFE
APPLY FOR A FEAT GRANT
Almost 200 people die every
day

in the US from opioid overdose.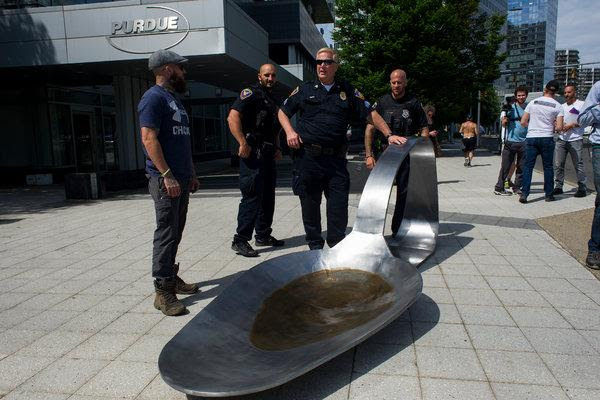 Death by overdose is an unnecessary catastrophe because there is a way to interrupt and end opioid addiction. It's a medicine called ibogaine that comes from the root bark of the Tabernathe iboga plant. Thousands of people have been freed from opioid addiction in a single treatment with no withdrawal symptoms. An iboga "treatment" is not an over-the-counter affair or a recreational drug. It's an upto 36-hour journey that powerfully affects the body, mind, and spirit. It requires a therapeutic environment and someone to monitor heart-rate, nausea index, as well as the psychic well-being of the patient. A 3-6 month integration period and plan is recommended.
Few people know about iboga, and we are in an epidemic. To remedy this, Lakshmi Narayan, founder of Awake Media, has initiated a four-part movement called Iboga Saves, whose mission is to spread the word about how a psychedelic medicine like iboga works and petition to change the law that denies Americans access to this life-saving medicine.
"Addiction is neither a disease nor a choice," says addiction expert Dr. Gabor Maté
Addiction is a condition that impacts body, mind, and spirit. It comes from the Latin word addictus, meaning a "debt slave," a person who has been bound as a slave to his creditor. Many people have described themselves as "enslaved" by their opioid addiction. Addiction cannot be healed by pills and detox alone because they do not address the underlying root cause, which, according to Dr. Mate, is always trauma.
IBOGAINE, DURING AN OPIOID EPIDEMIC, COULD SAVE THOUSANDS OF LIVES, LIKE PENICILLIN DURING WORLD WAR II.
"American and British ingenuity together soon turned penicillin from an obscure research project into a mass-produced here-and-now means of saving lives." -History.com
DONATE TO MAKE THE MOVIE
Ibogaine, the Addiction Interruptor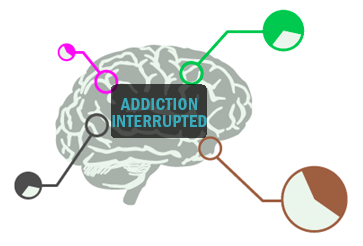 Ibogaine not only interrupts addiction and eliminates withdrawal, it also repairs brain tissue damaged by prolonged opioid use. An ibogaine treatment, combined with an integration plan, brings back a sense of wholeness and purpose to a person suffering from opioid addiction, and offers them a real second chance at reclaiming life. Plant medicines like Tabernathe iboga act as chemical doorways to direct experience. They are instrumental in us being able to deal with the shadows and traumas of life on the psychological and spiritual level where the wound originates.The ibogaine experience is a return to the root, not just the root cause of one's problems, but the root source of one's strength. This makes it a gift to humanity, especially during an opioid epidemic.
Is Ibogaine Safe?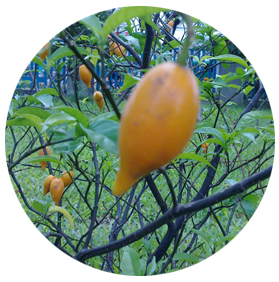 With the proper medical protocols and doctor supervision, iboga and ibogaine can be administered safely. It has been used for thousands of years by tribes in Africa and for almost 60 years in the West for interrupting opioid addiction. Ibogaine is a serious medicine for a serious condition. Its not a recreational drug and needs to be administered with prior blood work, EKG, clinical supervision, and monitoring of vitals before and during the entire procedure. If not, it can cause problems for those with certain cardiac conditions or contra-indicated drugs in their bloodstream. Because we are dealing with an addicted population, sometimes people lie about what drugs they might have consumed before the procedure or about pre-existing health conditions. The more reputable clinics follow best practices for medical safety, and some have operated for decades without incident. The lack of medical regulation, however, has led to some fatalities and dubious practices and poorly equipped clinics so please do your research thoroughly before working with someone. We have created a Directory of treatment providers that have good reputations as a starting point for your research. 
Tragically, Illegal in the Country That Most Needs It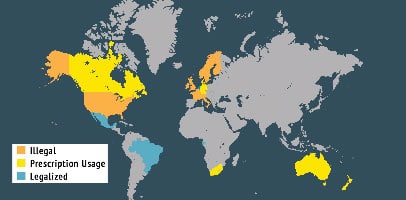 The tragedy of parents losing a child to overdose, kids on anti-psychotics, rising levels of psychological distress, moral depravity, and cultural destruction can in part be attributed to this one thing: lack of legal access to the plants that are organic, chemical cocktails designed by nature to put you directly in touch with your subconscious and superconscious. Just like food gives you nutrition for your body, entheogenic plants give you nutrition for your mind and spirit.
We are dealing with 2,000 years of cultural prohibition, compounded by a set of antiquated U.S. laws made in 1970 which made no distinction between psychedelic substances with a long history of religious and medicinal use (like Tabernathe iboga) with harmful narcotics like heroin, cocaine, and methamphetamines into a category defined by the DEA as a Schedule I drug, "with no currently accepted medical use and a high potential for abuse." These drugs carry severe criminal consequences for their possession, use, and sale. Iboga is clearly misclassified in this category. It is not a recreational drug; it is a powerful medicine which can interrupt years of opioid addiction in a single treatment! It should be made legal as soon as possible. Hence our efforts.
1. FEAT (Funding Entheogenic Addiction Treatments)
Even if ibogaine was decriminalized everywhere tomorrow, its still going to take years for psychedelic medicine to be integrated into the mainstream healthcare system, and even longer for insurance to cover it. In the meantime, many addicts can't afford the treatments and we have hundreds of documented deaths everyday in the US alone, and Canada also has a huge problem. That's why we're created FEAT, a program which will give scholarships for addicts to integrate the week-long ibogaine treatments into their addiction recovery plan. Ibogaine is the missing link in the addiction recovery treatment pathway. To learn more about FEAT and/or apply/donate please click here.
2. A Documentary: "Iboga Saves"
Academy-award-nominated cinematographer Eric Thiermann of Impact Creative has joined forces with Lakshmi Narayan of Awake Media to produce a documentary "Iboga Saves." We will follow the profound transformational recovery of four opioid addicts being treated with ibogaine and iboga in a therapeutic setting, both clinical and ceremonial, at different locations worldwide. Our goal is to shed light on the social, political, and spiritual situations that impacts iboga's use for addiction recovery. ABOUT THE FILMMAKERS
3. Web Directory of Treatment Providers
If you are an iboga clinic or retreat center, offer a complementary modality or psychedelic integration and addiction recovery services, and would like to be included in the Directory, please apply here.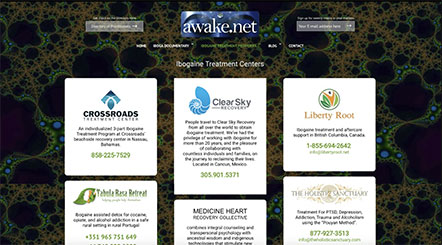 4. Social Media Awareness Campaign
We offer an blog and video social media campaign to inform and educate about the benefits of iboga for opioid addiction.